The commodores Cruise is organised by West Kirby Sailing club and consists of a party on the West Hoyle sandbank. This bank covers on all tides, but on a neap tide we generally get 6 hours when we can beach the boats and setup a barbie and bar. It usually requires an early morning start from the Sailing club and an evening tide return, just in time to get back to the local for the Sunday night quiz.
This year we decided to sail Stardust from Liverpool the previous evening and arrive in the deep channel behind Hilbre Island at about midnight, We anchored and had a lovely breakfast as the tide ebbed the following morning.
The wind and waves were bad the night before and all on board felt quite ill at some point. Conditions moderated on Sunday and we had a very enjoyable beer and hot dog on the bank, which is normally home to several hundred grey seals.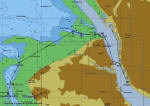 Chart of Route

Seal at HE4

The River Dee showing Hilbre Island
The chart above shows the route from Liverpool around to the HE4 Mark which marks the south east end of the West Hoyle bank. HE4 seems to be aground at spring LW these days so I suspect it has dragged. We took the shortcut through the Rock Gut which shaves an hour or more off the Journey