Leg 2, Kinsale, Co Cork, Ireland to Lagos Portugal
Started Monday 26th June, Departing Kinsale at 2130.
| | |
| --- | --- |
| Departed | 26th June 2006 21:30 |
| Arrived | Fri 7th July 05:30AM |
| Distance | 989 Nautical Miles |
| Avg Speed | 4 - 5 knots |
| Weather | F2 - F8 |
The Planned Route (Click on Map for larger Image)
The Actual Route (Click on Map for larger Image)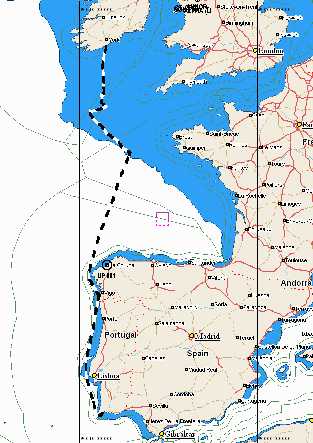 We had a great sail from Ireland down to Portugal, however light southerly winds meant we had tack / motor sail ever so slowly down towards Biscay. Eventually we had used up enough fuel to make me decide on a landfall in Spain to refuel. This gave us a reason to call into Bayona and rest for the night. What a great town, I recommend a visit to anyone heading that way. The marina was very modern and the staff were great, sending out a rib to meet us in the harbour and also towing me out of the fuel berth as I couldn't get the Lady to reverse. When she has the Wind vane rudder fitted she will not behave in reverse at all. Imagine trying to do a 3 point turn in a car when you can't touch the steering wheel in reverse, and worse it will generally turn at random one way or the other.
Having replenished supplies and spirits (mental and liquid) we headed south for Lagos (pronounced lah-goosh). The winds promptly kicked up to 20-27knts from the N/ NW. Brilliant, except they brought huge Atlantic rollers with them which came crashing down on our starboard quarter making the boat corkscrew into the sea. It was an exhilarating ride, and we averaged about 5.5 knots for the remainder of the Journey.
Passing Cape St Vincente at the extreme bottom left of Portugal I started the engine to help with the more northerly passage up into Lagos, however the engine was not pumping water through to cool itself so had to go off. This was a big problem, We could try tacking up to Lagos but that would be hard work. I wondered why I hadn't packed any charts for Morocco as that was now our most likely landfall!
Anyway, with a dismantling of the impellor and a new o-ring seal fitted, the engine started working fine and we had a great ride into Lagos. All along the Portuguese coast we had to contend with fishing nets, often a mile long laid out across the sea. Often we drove straight over them , with the engine in neutral in case of a propeller wrap, and our fingers crossed. Once near the entrance to Lagos we were amazed to see just how many little boats were out fishing close to the coast, at one point i counted about 20 boats all around us. Amazingly most of the restaurants in Lagos don't sell fresh fish but buy in frozen!
Prior to this last sprint we had been accompanied by dolphins every few hours, see the video for more, however not so off Portugal, could it be the nets?
Kathy has decided the Simrad wheel pilot shall now be known as Simon and the Hydrovane as Harriet, oh and the Parasail has been called Bella. Oh Well.
Lagos is very 'British', Tetley and full English breakfasts everywhere. I must say this is one aspect of our culture I can't stand. Why does anyone visiting Lagos want to buy from a shop proudly boasting 'Real Cornish Pasties for sale'. I wish we had spent an extra day in Bayona. However the Marina is very nice and safe, and very handy for town.
We will be back there in seven weeks for Leg 3 with Max a third crew member to help us get down to Las Palmas, Gran Canaria
There is also a short video of the event here
I finally found the disk with the pictures of leg one and two on it, I have posted a selection here.