Leg 3, Lagos Portugal to Las Palmas, Gran Canaria
Predicted/Planned route
| | |
| --- | --- |
| Depart (Est) | Tue 22nd Aug 2006 20:00 |
| Arrive (Est) | Tue 29nd Aug 2006 20:00 |
| Distance | 650 Nautical Miles |
| Avg Speed | 4 - 5 knots |
| Weather | F4-6 NW-NE |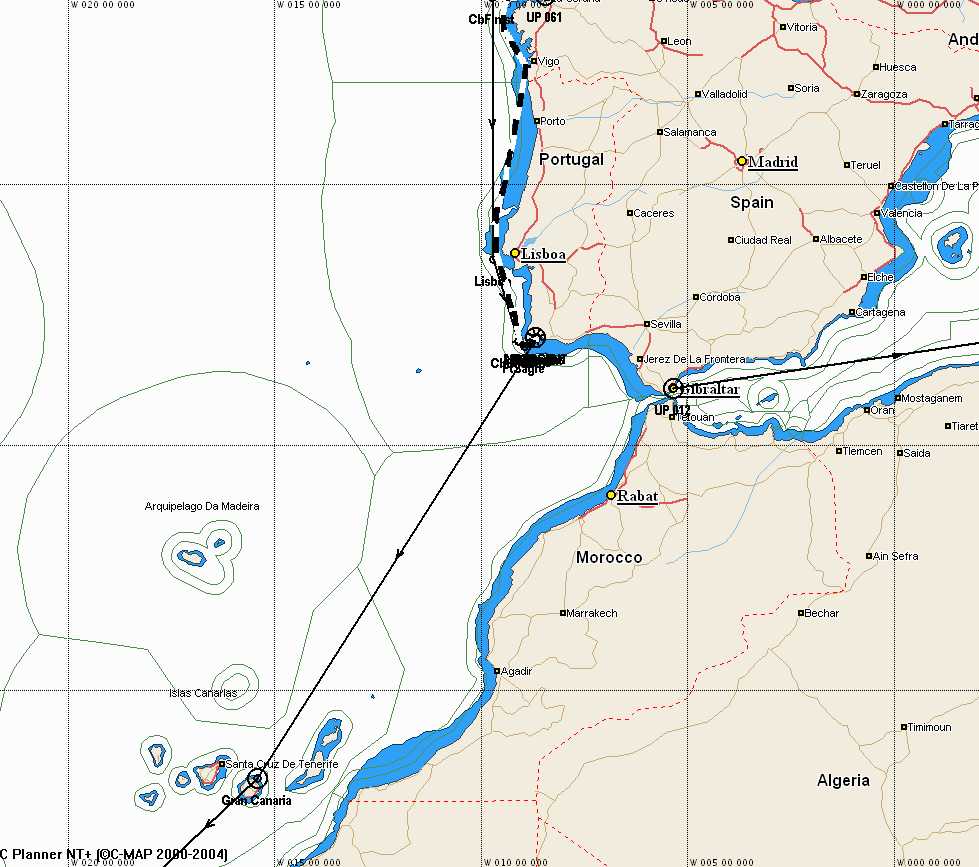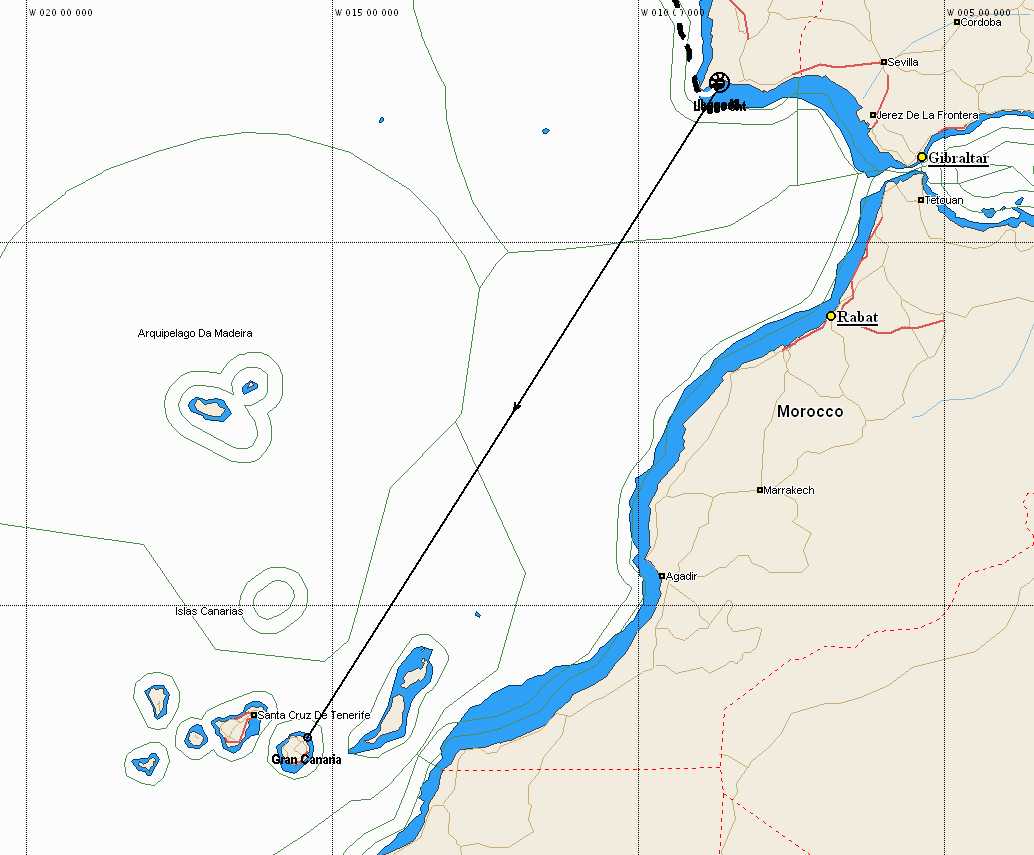 640Nm, 6-7 Days at 4.5 Knots
| | | | | | | | | | | |
| --- | --- | --- | --- | --- | --- | --- | --- | --- | --- | --- |
| Name | Description | Lat | Lon | BRG | Dst (Nm) | Dst tot (Nm) | Speed (Kts) | Leg Time | Tot Time | Start Time/ Arr Time |
| lagos M | Generic User Point | 37°06.449 N | 008°40.458 W | | | | | | | 20:00:00 |
| Lagos2 | Generic User Point | 37°06.089 N | 008°40.196 W | 150° | 0.42 | 0.42 | 4.5 | 00:05:32 | 00:05:32 | 20:05:32 |
| Lagos3 | Generic User Point | 37°05.947 N | 008°39.974 W | 129° | 0.23 | 0.64 | 4.5 | 00:03:02 | 00:08:34 | 20:08:34 |
| Lagos4 | Generic User Point | 37°05.752 N | 008°39.877 W | 158° | 0.21 | 0.85 | 4.5 | 00:02:47 | 00:11:22 | 20:11:22 |
| Lagos ent | Generic User Point | 37°04.675 N | 008°39.962 W | 184° | 1.08 | 1.93 | 4.5 | 00:14:22 | 00:25:45 | 20:25:45 |
| Gran Canaria | Generic User Point | 28°07.493 N | 015°24.410 W | 211° | 636.13 | 638.06 | 4.5 | 141:21:41 | 141:47:26 | 6d 17:47:26 |
Right now the boat is sitting in Lagos Marina Portugal. We fly out in 4 weeks time to take the boat south to the Canaries. 
This is the last easy leg, the next leg is the big one, departing Gran Canaria for St Lucia (non stop, no stops available for 2600NM ;-) ) in November.
I hope the boat is happy sitting in Lagos all alone, this is the longest I have been away from the boat since I purchased her, 
I can only console myself by reminding myself that I have spent the last year working on her so that she can be left alone safely without fear of sinking.
Need to research the islands we can stop off at on the way to the Canaries, I believe there are some Gems.
Having researched the Islands, I think instead of going to 
the Isla Salvegems we will call in at Madeira for a day or two.
New plans here.